Muse Music
Background
This is a design challenge which is aimed at designing a digital music service with access to millions of songs. There are three basic requirements. Firstly, this design should include music libraries which have recommended songs or the most popular songs. Secondly, it should include brief introduction for each singer and album. Thirdly, it should have a music player interface. It is an UI design challenge, so it did not ask to conduct intense user research. In this project, I simplify the design process. I start from ideation to persona, to competitive analysis and to visual design.



Role
I worked as an UX/UI Designer in the personal project.


Method & Tool
Method: User research, Competitive Analysis, Visual Design, User testing
Tool: Sketch, Principle


Ideation

As a designer, I usually listen to music when I am working because it can pull out any range of my emotions when I listen to it, and it can even fuel my motivation and inspiration. Thus, I want to design a music app which allowed designers to find inspirations and gain creativity from music.
Interviews
I interviewed some of my friends who works in design industry to verify this idea. I had small talks with them and most of them indicate that they listen to music when they work since music can enhance their productivity. Some of them mentioned that they choose songs that match their pace or songs that are suited to the type of project that they worked on.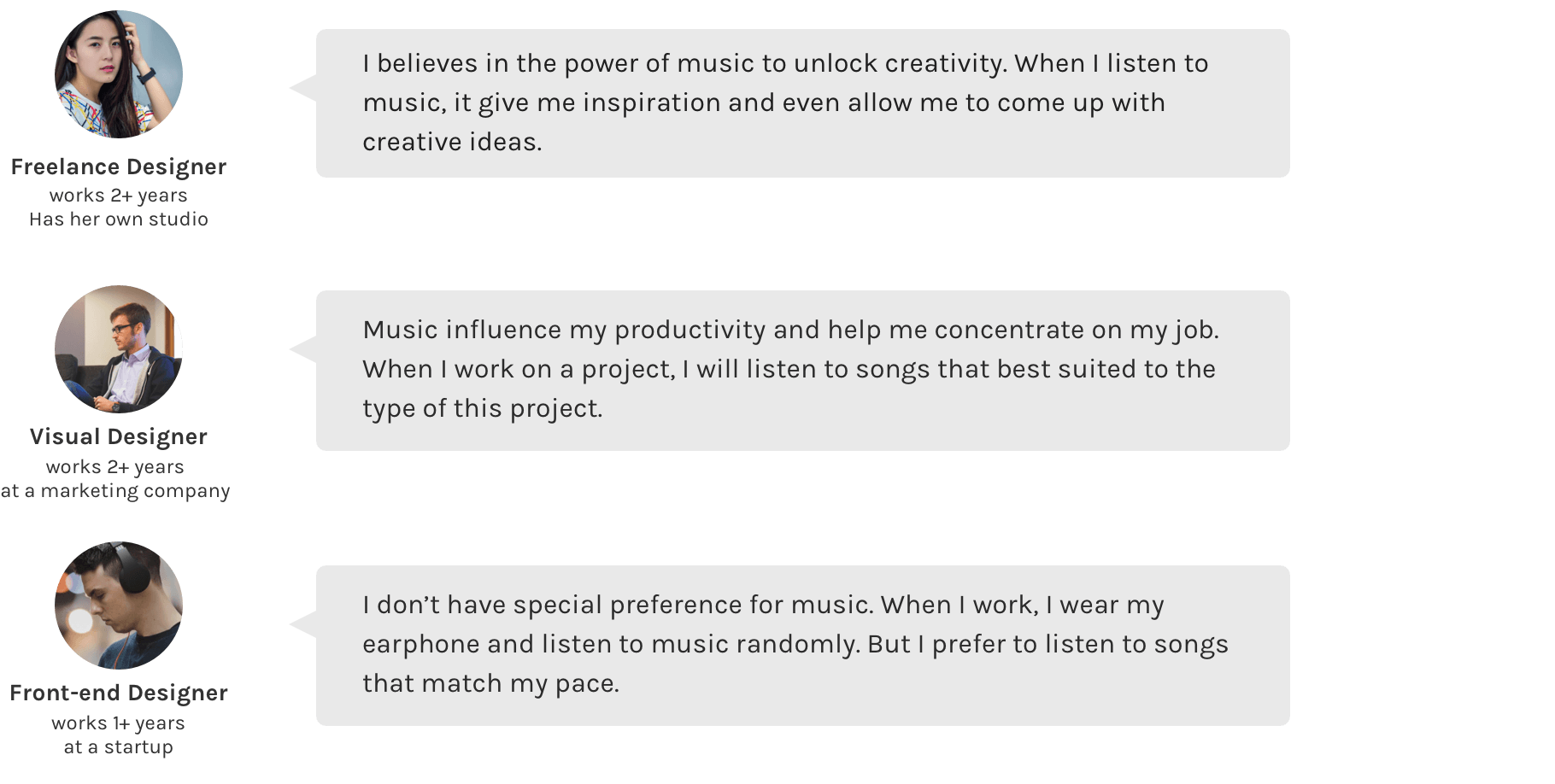 Analyzing Existing Products

To learn more about the main features of music app, I also did a short research among three popular music stream apps: Spotify, Musi, and KKBOX. I want to know the pros and cons of current music apps so that I can find the gap in the market and design a new product to satisfy users' need.

Among these three apps, Spotify has the best user experience since it asks users to answer their favorite music style and singers before they start to use the app and then recommend music that matches users' interest. While Musi lets users stream and organize music directly from YouTube, KKBOX and Spotify has their own music library.

The main features of these music apps include: browsing new songs, browsing songs by Genre, searching songs, music player and saving songs to my library.
Design
Based on the interviews and analysis, in addition to the basic features: analyzing user preference, recommended lists, music player searching, and library, I decide to add a feature which is called "feed" in this app. Users can view different type of music on feed page. Different from the exisiting apps that allow users to browse music according to their music style, the feed page allows designers to browse music by "visual style" or their mood. For example, users can choose to listen to "Colorful" playlists which would provide users with many different genre of music. If users choose to listen to "Pop Art" playlists, the app would provide users with songs that could be associated with Pop art.

Also, considering some users like to listen to music randomly to get new inspiration, users can find random music based on their preference. If users don't like the existing categories, they can also create their own category and add music into it.



Concept

Music can influence productivity and even fuel my motivation and boost creativity. Thus, I name this app as "Muse Music" which means this app is like Muse and it can inspire people. This logo is like a shooting star which refers to a sudden inspiration and also it is similar to the shape of "MU".
User flow
Then I create a user flow to think through the whole process. I imagine myself as the first time user so that the process start from choosing favorite genre and singers. Then I created the information architecture based on the user flow.

Information Architecture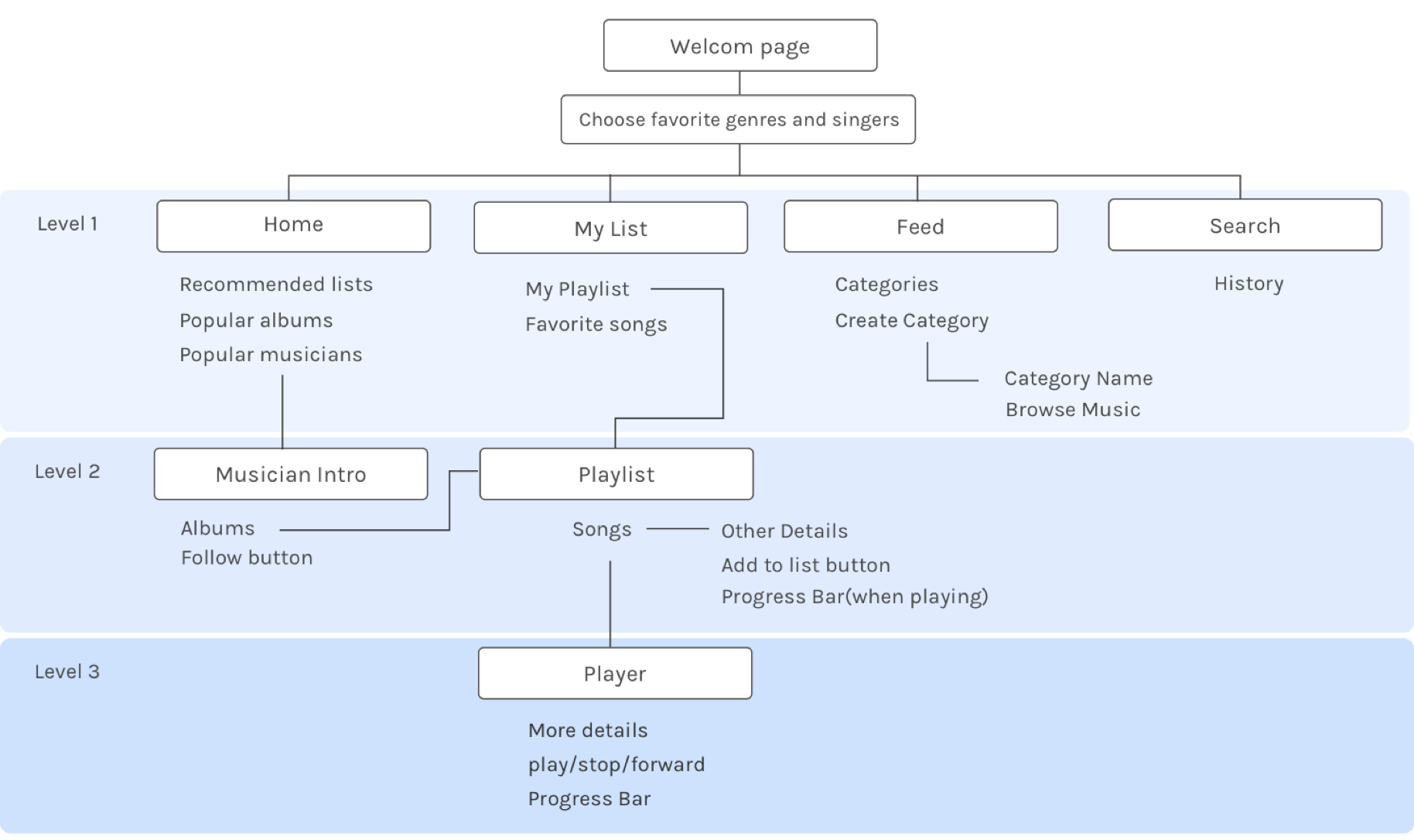 Visual Design / Interaction Design